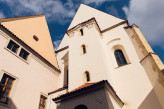 Prague Crossroads is again going to take part in the Open House Praha festival.
Interest of visitors in the last year festival confirmed that St Anne's Church belongs to the architectonal jewels of Prague. As it is normally not open to public, you will have unique opportunity to see its insides and explore it as you wish.
Let´s come and see on your own this year!
Weekend 18 - 19 May 2019 10 am - 18 pm, Zlatá 211/1, Praha 1 (entrance from the street Liliová / Anenské náměstí)