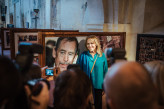 Mrs Dagmar Havlová together with photographer Alan Pajer at the opening ceremony of the exhibition of photographs dedicated to the 20 th anniversary of the establishment of the Dagmar and Václav Havel VIZE 97 Foundation.
Japanese Emperor Akihito, Prince Charles, Hillary Clinton, His Holiness the Dalai Lama, Umberto Eco, Robert Redford, Bob Dylan or Joan Baez – these are some of the names of the personalities that visited the Foundation during these years and their representative selection is also part of the exhibition at the Prague Crossroads.
Come and see the collection of more than 100 photographs from the extensive archive of the Foundation's photographer, Alan Pajer, which commemorates the establishment and beginnings of the Foundation's activities, successes achieved and the projects which the Foundation is currently engaged in.
Exhibition of photographs:
from 13 June 2017, always from 12.00 noon to 6.00 p.m.
Prague Crossroads – St. Anne's Church
Zlatá ulice, entrance from Liliová ulice
(Subject to change – more at www.vize.cz)
Voluntary admission fee
Proceeds from the voluntary admission fee will be donated to the Foundation's project "Early Diagnosis and Prevention of Bowel and Rectal Cancer".