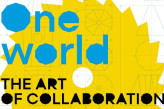 Once again, the Prague Crossroads will officially open the 19th year of the International Human Rights Documentary Film Festival ONE WORLD 2017. The festival will take place on Monday, 6 March, at 7.00 p.m., where the Homo Homini Award - in recognition of courage and dedication to the promotion of human rights, democracy and non-violent solutions of political conflicts - will be given. Last year, the award was granted to the Russian non-governmental organization, the Committee for the Prevention of Torture, for its courage and persistence in helping victims of torture, police harassment and unpunishedviolence.
Every year, the Homo Homini Award is given by the Czech organization People in Need that organizes the festival. The Foundation VIZE 97 has co-organized the gala evening eleven times now. Mr. Adam Bodnar, a Polish public promoter of human rights, will be a guest at the festival. Music will be provided by Czech singer Never sol with the senior women's choir Elpida.
One World will continue in Prague until 15 March 2017. It will then tour over 30 towns in the Czech Republic for several weeks. After that, it will move to Brussels.