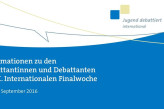 The Prague Crossroads will host for one day a student debating duel. On Friday 23 September 2016 at 11:30 at the Church of Saint Anna finals will be held the 10th International Final Week 'Jugend Debattiert International, an International Youth debate, which is jointly organized by Goethe-Institut. It will be the climax of the competition for which the students prepared for several months. In order to promote bilateral cultural relations they will argue in German. In the international final week, those who gradually fought their way up from school, regional and national rounds will compete. The jury will evaluate the in-depth knowledge of the topic, reasoning skills and the ability to listen and respond to the other debaters. The coveted result is not the victory of one over the other, but the common understanding of the problem. The project highlights the debate as a democratic means of resolving conflicts
The jubilee tenth 'debattiert international' will be attended by students from ten countries and Central and Eastern Europe. The question for the four participants who pass on to the final is known in advance: 'Should be states with proven state-organized doping be expelled from international sporting competitions?' How is the sporting world come to terms with this type of doping? If you want to see how young people of different nationalities tackle this problem of current concern come to the Prague Crossroads on 23 September.
The finals will be held with the support of the Foundation of Dagmar and Vaclav Havel Foundation VIZE 97 and under the auspices of Karel Schwarzenberg. The final round of the International Youth Debate was already held at the Prague Crossroads, under the auspices of Vaclav Havel in 2007. Since then, the project, focusing on human rights and their historical context, has significantly expanded.