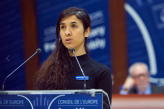 Wednesday 12 October 2016, exactly one week after the award of the Dagmar and Václav Havel Foundation VIZE 97 Prize, an international conference will be held at the Prague Crossroads in honour of the laureate of the Václav Havel Human Rights Award 2016. The laureate of this international award, Nadia Murad Basee Taha, was announced on 10 October 2016 at the Parliamentary Assembly of the Council of Europe in Strasbourg. The prize is awarded by the Council of Europe in association with the Václav Havel Library and the Charter 77 Foundation. The conference will be attended by eminent guests, including Michael Ignatieff, director of the Central European University. The conference theme will be the global migration phenomenon and its influence on the European institutions policies, those of Member States' governments, and the public.
Laureate Nadia Murad Basee Taha is a member of the Yazidi community who survived the massacre of her family and sexual slavery at the hands of IS jihadists. In December 2015 she delivered a speech at the UN Security Council on IS on attacks on the Yazidis, calling for their international protection, the liberation of captives and the halting of the genocide and sexual slavery of Yazidi women. The Václav Havel Human Rights Award honours the extraordinary efforts in the defence of human rights. Since 2013 the prize is awarded every year with a cash sum of 60,000 euros.
The conference in honour of the laureate will be interpreted simultaneously into Czech and English. You will find a detailed programme here.
Photo © Council of Europe