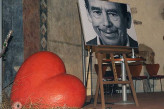 The first to be installed was "Totem" composed of seven shaped glass parts, which bear ribbons made of the mourning wreaths and bouquets kept after the last farewell to President Václav Havel. The author of the idea is the former castle architect Prof. Dr. Ing. Bořek Šípek.
Then a base plate was placed on the choir loft, which is a reminder of the wax "Heart for Václav Havel", which Roman Švejda and Lukáš Gavlovský created from the wax of incompletely burnt votive candles collected in the Czech Republic after the death of the President. The two meter high sculpture weighing 2.3 tonnes was unveiled on 9 February 2012 on the plaza of the National Theatre, where for technical reasons the Heart stood on an underlying wooden board, exposed to the weather. People who came to see the wax heart gradually trampled dust from the street and small flakes of wax into the board. After dismantling and removing the wax object, an image of a glowing heart emerging from a dark background appeared on the underlying board.
"My diary with V.H. (2007 -2010)" is a work consisting of photographs of Václav Havel, which were artistically selected and arranged by Daniel Pešta, and together with his wife Prof. Dr. Dadja Altenburg-Kohl he donated it to Mrs. Dagmar Havlová. It is found at the main entrance to the church and captures the President during various formal and informal events.
The fourth work, which was added to this spiritual place, is the Crystal Handprint of the President. It is the idea of the young glassblower Jan Huňát, who authentically captured the President's palm with all the details and added the colour motif of the national flag to the work.
The final work of art is the red plaster heart of the prominent Czech sculptor Prof. Kurt Gebauer, installed on the podium.
More information about all works of art installed in the Prague Crossroads is available here.