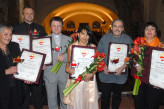 Gypsy Spirit 2013 awards in the
Czech Republic
awarded at the Prague Crossroads.
On 10 December 2013, on the occasion of the International Day of Human Rights, the Gypsy Spirit 2013 awards ceremony took place in the Czech Republic after three years. The implementers were the Michael Kocáb Foundation and Open Society, P.B.C.
More information can be found here.