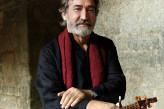 The master of Early Music unites Eastern and Western traditions in this special programme
Jordi Savall has devoted his forty-year career to rediscovering abandoned musical treasures, rescuing works that might otherwise have fallen into oblivion, and performing them with a range of ensembles featuring some of the finest musicians in the world. Savall is a legend in the early music world, not only as a virtuoso on the viola di gamba, but also as a conductor and scholar. He shares his passion thoughout the world, giving over 100 concerts a year, and his specialist record label Alia vox has helped bring early music to a broader public.
The Orient-Occident programme was conceived, Savall says, as 'a spiritual antidote to the mounting, dramatic conflict of civilizations that erupted with the outbreak of war in Afghanistan.' The project takes the form of a dialogue between musicians from East and West, articulated through the instruments and music of Christian, Jewish and Muslim Hesperia, the stampitte of medieval Italy and the improvisations and dances of Morocco, Israel, Persia, Afghanistan, and the old Ottoman empire. Forms of music that – in terms of time and place – initially seem removed from each other are brought seamlessly together, borne along on the pulse of ancestral percussion instruments: a fine demonstration of the ways music can create connections among disparate cultures.
Jordi Savall has recorded over 170 CDs and won innumerable awards. In 2008, he was appointed an 'Artist for Peace' by UNESCO, and he was recently named 'Commandeur des Arts et de Lettres' by the French Ministry of Culture.
More informationcan be found here